By Elaine Reckord October 3, 2017
http://jis.gov.jm/jnht-host-heritage-lectures/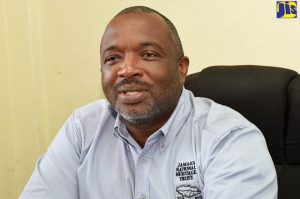 Education Officer, Jamaica National Heritage Trust (JNHT), Duane Harris.  Photo: Rudranath FraserPublic 
The Jamaica National Heritage Trust (JNHT) will be hosting a series of heritage lectures on Jamaica's first National Hero, the Rt. Excellent Marcus Garvey, as part of activities to celebrate Heritage Month 2017.
Heritage Month is being celebrated in October under the theme 'A Great Heritage… A Great Legacy'.
The first lecture is scheduled to begin on Monday, October 9 at the Institute of Jamaica, 10-16 East Street, Kingston.
The other lectures will take place at Sam Sharpe Teachers' College in St James and the Northern Caribbean University in Manchester on Tuesday, October 10 and Thursday, October 12, respectively. All lectures begin at 10:00 a.m.
Students, teachers and the general public are invited to attend the lectures, which are free of cost. Guest lecturer will be the President of the Universal Negro Improvement Association (UNIA), Steven Golding.
Click for full article: JNHT to host Heritage Lectures
For further information Contact:
Duane Harris duaneharris@jnht.com 
Jamaica National Heritage Trust
79 Duke Street, Kingston