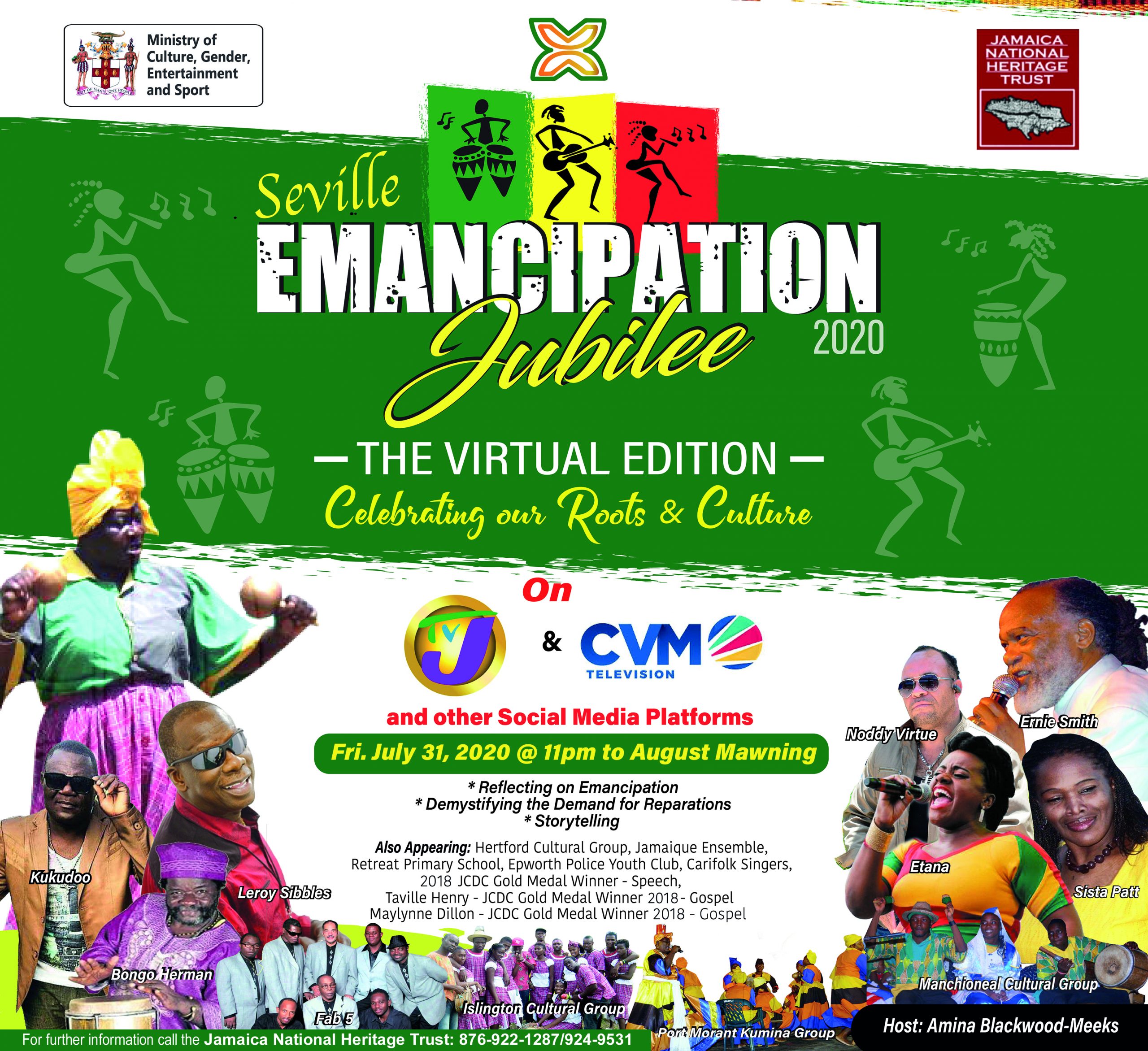 Each year, on July 31st to August Mawnin, the Jamaica National Heritage Trust, a statutory agency of the Ministry of Culture, Gender, Entertainment and Sport, hosts the Emancipation Vigil at Seville Heritage Park in St. Ann. It is done to honour all the enslaved Africans who have lived and died on the Seville Plantation. The remains of four of those Africans were discovered in 1997 while carrying out an archaeological research. Three of which were reburied at Seville and the other was repatriated in 1998 to Ghana, Africa.
For this year, due to the onslaught of the Covid-19 pandemic, the event will not be held at Seville, however, we have devised a full production of the show and it will be aired on TVJ and CVM TV from 11:00p.m. on Friday July 31st to August Mawning.
This televised broadcast will reflect on emancipation and demystify the demand for reparations through storytelling and cultural performances. It will be hosted by Amina Blackwood Meeks. There will also be a re-enactment of the reading of the Emancipation Proclamation as was done by Gov. Lionel Smith at Emancipation Square in 1838. Some of the cultural acts will be the Hertford Culture Group, Port Morant Kumina Group, Islington Culture Group, Manchioneal Culture Group, JCDC Gold Medal Winners, Carifolk Singers, Ernie Smith, Etana, Leroy Sibbles, Fab 5, Sister Pat, Kukudoo and many more.
We are encouraging everyone to stay in their homes and setup with us, as we sip hot chocolate tea from our enamel mugs and tune in to this virtual edition of Emancipation Jubilee.
For further information you can contact the Jamaica National Heritage Trust via e-mail at jnht@jnht.com or telephone at 876-924-9531.