The Juan de Bolas Marker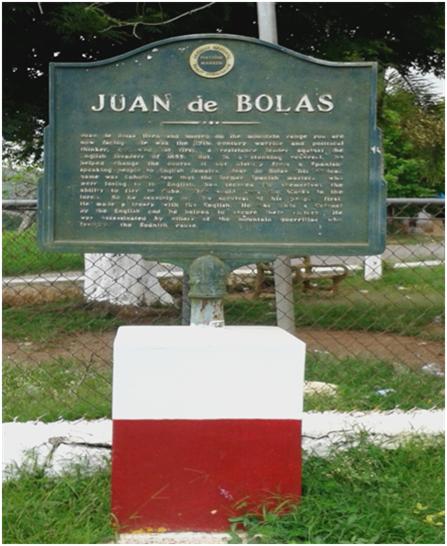 Parish: St. Catherine
The Juan de Bolas Marker is strategically placed along the main thoroughfare in the centre of the town of Lluidas Vale. Apart from the adjoining village of Juan de Bolas it is the only object/landmark which honours Juan de Bolas one of the early freedom fighters who achieved freedom, land and independence for his people in 1660s.
Juan de Bolas is regarded as the first Maroon chief known in history. He was also a black guerrilla leader and freedom fighter, known to the Spanish as Juan Lubolo and to the English as Juan de Bolas. He was an enslaved African during the period of Spanish occupation which ended in 1655. In that year he led a group of Spanish enslaved Africans into the hills of Lluidas Vale, St. Catherine. In the struggle for the possession of the island between the English and the Spanish, de Bolas initially assisted Don Christoval Arnaldo Ysassi, the last Spanish Governor of Jamaica (1656 – 1660), in a guerrilla war against the English.
When in 1660 de Bolas and his community were discovered by the English Lieutenant Colonel Edward Tyson (d. 1660) he switched his allegiance from the Spanish to the English. His change in allegiance was on condition that he and his people would be freed. De Bolas assisted the English Colonel Edward D'Oyley (1617–1675), Jamaica's last Military Commissioner (1657–1661), to finally oust the Spanish from the island. Juan de Bolas' condition was subsequently met and he and his people were given citizenship and land by the English. Juan de Bolas was made a Colonel of the Black Militia. According to Olive Senior (2003), Juan de Bolas was made a magistrate and his followers are recognized as the first Maroons in Jamaica. This community is also recognized as the first black community in the New World.
Tragically, Juan de Bolas was ambushed and killed by a group of Spanish enslaved Africans who had previously refused to surrender to him. The area he once roamed is now known as the Juan de Bolas Mountains overlooking the valley of Lluidas Vale.
Bibliography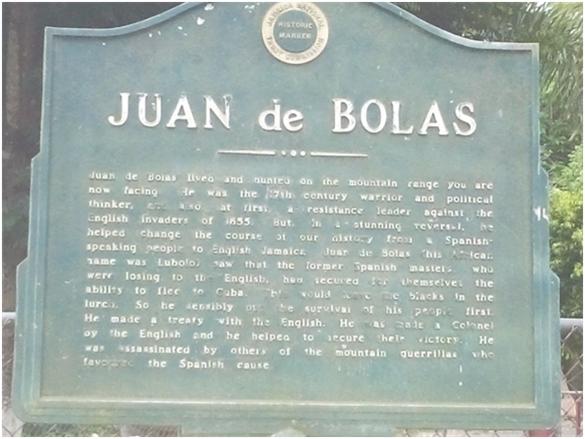 Cundall, Frank. 1915. Historic Jamaica. London: The West India Committee
Espeut, Peter. Unpublished. An Encyclopaedia of Geographical (Place and Street) Names
o in Jamaica, and Present with Historical and Biographical, notes, Anecdotes and Legends
Senior, Olive. 2003. Encyclopaedia of Jamaican Heritage. St. Andrew: Twin Guinep
o Publishers Ltd