Rose Hall Great House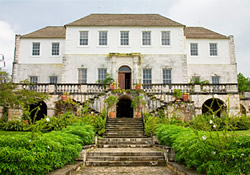 Parish: St.James
Overlooking the beautiful Caribbean sea, on the hills of the former Rose Hall Sugar Estate, approximately 10km, from Montego Bay, St. James is the very imposing Rose Hall Great House. With the many stories about its former owner, Annie Palmer and the cruelty she meted out to her slaves, Rose Hall Great House is a very popular visitor attraction.
Restored to its former glory, visitors may have a guided tour of the Great House, and visit the tomb of Annie Palmer. On the grounds of the Great House are several gift shops and snack counters.
Rose Hall Great House was built in the mid 19th Century by George Ash for John Palmer, Custos of St. Thomas for £30,000. The Great House which is of Georgian architecture is built of cut stone on the first two levels and stucco on the third and uppermost level. The main approach to the second level of the building consists of a cut stone symmetrical grand staircase which leads to a veranda on the seaward side of the building.
The building is completed with sash windows, keystone, quoins and a hip roof.