Town House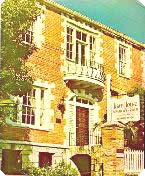 Parish: St. James
A keystone on the arch over the entrance to the basement suggests that the Town House was built in 1776. If this date is indeed correct, then the building predates the Parish Church by ten (10) years.
This Georgian three-story building boasts a short overhang on the roof and as a result more sun is allowed to reach the building. It has a symmetrical elevation and the superstructure is constructed of brick and wood while the basement is made of cut stone. The front entrance has a raised panel door and sash windows are wooden framed glass transoms flanked by articulated louvres. These windows and doors have quoin and keystone detail and there are quoins on the corners of the building. There is also a bridging staircase which takes one from the sidewalk to the main entry door. A brick wall surrounds the building.
Today, the building is owned by Nigel Pemberton whose wife purchased it in 1967. The basement and ground floors are leased to Mr. James Snead and now houses the Town House Restaurant while the upper floors are leased as offices.