Admiral Mountain Great House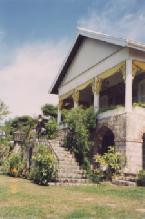 Parish: St. Andrew
Admiral Mountain in 1780 was the property and residence of Admiral Peter and Lady Parker. Peter Parker was then the Admiral of the British fleet in the West Indies. Admiral's Mountain later became the residence of all British Admirals stationed in Jamaica during the latter part of the 18th and early 19th Centuries.
The most honoured Admiral to be stationed there was Horatio Nelson. He went to Admiral's Mountain on the 11th June 1780. Horatio Nelson (1758-1805) was probably one of Britain's greatest naval heroes stationed in Jamaica. He was the Commander of the British Navy during the Napoleonic era and was twice stationed at Port Royal. A plaque on the Nelson's quarterdeck at Fort Charles, Port Royal, reminds visitors of his stay in Port Royal.
The site is a national monument and is privately owned.