Mico College Buildings
Parish: St. Andrew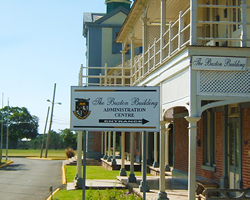 The structures are all comparatively old but have contributed greatly to the accommodation, spiritual well being, and education of teachers from the Negro population.
They form a part of the Mico College which was established as a result of funds bequeathed by Lady Mico in 1690 to her nephew Samuel, on condition that he marry one of his cousins. Samuel did not marry, however, in 1834 Thomas Fowell Buxton used the money to fund Negro Education in the West Indies. Mico College grew in size and stature and is one of the best Teachers' Colleges in the West Indies. It has greatly contributed to the community socially and culturally.
Buxton House
Buxton House stands on the site of the original house, which was built in the 1890s under the administration of Sir Thomas Fowell Buxton. Following the disastrous 1907 earthquake and the subsequent fire in 1910, Buxton House was rebuilt in 1911 with less of the heavy Victorian character. The bell tower at the northeastern corner of the L- shaped building was donated by Buxton.
Kelvin Lodge & Cottage
These buildings depict the classical proportions and symmetry of Georgian architecture with piazzas shoring, and adaptation of the Jamaican Georgian (1760-1830). They are classical examples or replicas of the former Hibbert House now known as the Headquarters House.
There are certain elements of detail with a composition of brick work and mortar, wood, lattice work and sash windows. The interiors have wooden floors.
Porter's Lodge
The Porter's Lodge is built of red brick and mortar with features of Georgian architecture
The Chapel
The Chapel is a more modern building constructed in 1936. It was built to complement the Georgian buildings on the compound.