Bushy Park Aqueduct
Parish: St. Catherine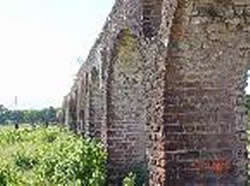 The Bushy Park Aqueduct was built between 1760 and 1780 and was a part of the Bushy Park Sugar Estate factory works. Mortar of crushed limestone, molasses, animal dung and dry grass were used to hold the bricks in place.
The aqueduct acted as a water canal providing the power to turn the waterwheel for the cane grinding operation on the Estate. The water for this function was obtained from the Spring Garden River.
The aqueduct, though not continuous, is 559 meters long. Portions have been removed for the construction of the railway line, the parochial road and the Old Harbour Bypass (now a part of Highway 2000).
This is one of the few remaining aqueducts in Jamaica and is an excellent example of the technical and construction skills of the Jamaican people.