Flagstaff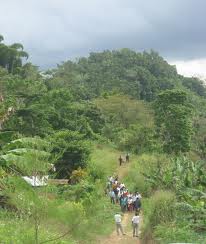 Parish: St. James

Flagstaff is the site of a small Maroon community and features considerably in the Maroons Wars which begun in 1795. After the war, barracks were built on the Old Town now known as Flagstaff. By 1838, fifty nine buildings were occupying this site.
Maroons were organized bands of free blacks, escaped slaves and descendants of such. The original Maroons were mainly of Angolan origin with some Arawak mixtures but later as others joined, Madagascars and Coromantees joined later after slaves insurrections. Coromantee became the language spoken. These Maroons were outside of the plantation slavery system, and they occupied the densely forested regions in the mountains of Jamaica.
The Military Graveyard There are approximately twelve graves, each constructed with cut stone, brick or historic concrete, or a combination of all three. Only two these graves have headstones
Hospital
The remains consist of a single row of cut stone projecting approximately 30cm above the surface.

Parade Ground
The parade ground is currently being used as a play field. Construction of a community centre has been done on the eastern end. All that remains of the historical buildings are two fairly large rectangular cut stone block blocks.
Garrison Hill
This is a small concealed limestone peak east of the parade. In the nineteenth century a number of military barracks were positioned at the foot of the hill. Only a few cut stones are visible.
North of Garrison Hill a cut stone foundation is evident (banana field). Some shreds are visible on the surface.
Gun Hill
A small isolated limestone peak further east overlooking the hospital and bathing tank (called the swimming pool).

Swimming Pool (Bathing Tank)
West of Gun Hill is a large funnel shaped depression. Midway on the southern slope may be seen a cut stone swimming pool with a floodgate at its northern end. Water oozes from the rocks on the side of the depression into the pool filling it.