Bellevue Great House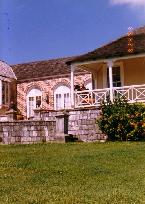 Parish: St. Ann
Bellevue Great House is situated in the parish of St. Ann. Archaeological evidence points to the fact that the House is situated on an extensive Taino site. In fact, there are two separate Taino sites on the property. In 1982, the only gold artifact ever found in Jamaica was unearthed there. The arifact is a gold disc dated AD 600-800, which was probably used as an eye or earplug for the Taino Zemis, religious/ceremonial gods. The artifact is now housed by the Facey family.
The land which forms Bellevue property was granted to Captain John Davis. Davis Town in the parish was alleged to be named after John Wilson Davis, the son Thomas Davis of Bellevue (1745-1834)
Bellevue Great House is a typical example of Jamaican vernacular architecture.
Bellevue Great House is a private property.