Seville Heritage Park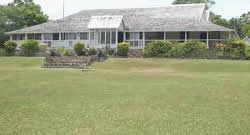 Parish: St. Ann
Located on the historic Seville Estate, is the Seville Great House (Plantation House) and Heritage Park.
The major attraction of the Park is the collection of the artefacts on display in the Great House which depicts various aspects of the life of the Tainos, Africans and Europeans. On the Park which overlooks the beautiful Caribbean Sea, are the relic of a water wheel used to operate the old sugar mill, the Overseer's House and a barbecue. Seville Heritage Park is an ideal spot for picnics, relaxation, and for the adventurous, there is horse back riding.
Guided tours are offered at the Seville Heritage Park.

Hours of Operation
Monday - Friday 09:00am -05:00pm
Closed (Public Holidays)