Appleton Railway Station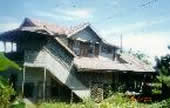 Parish: St. Elizabeth

The Appleton Railway Station is a two storey Jamaica/Georgian timber structure. A timber staircase leads to the station master's quarters which utilizes timber lattice work as a shading device.
The upper floor uses sash windows and jalousies on either doors and recessed panel timber doors. The building is covered with a zinc gable ended roof.
The Appleton Railway Station was constructed around 1894.