Cave Valley Chimney
Parish: St. Ann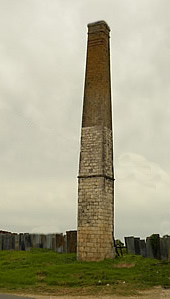 The Cave Valley Sugar Estate was probably built in or about 1872 as the plaque on the chimney bears that date. The chimney was once part of the sugar factory and took smoke and fumes away from the factory. The Cave Valley Sugar Estate produced sugar, molasses, and distilled rum.
The Towering Cave Valley Estate Chimney serves as a reminder of the 'hey-day' when sugar was 'king' and is one of the few such remaining structures.
It also serves as an important landmark in the community because it 'announces' one's arrival in the village.