Stewart Castle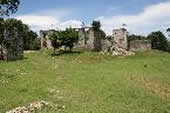 Parish: Trelawny
On this site is located the ruins of an impressive cut stone mansion, which became known as Stewart Castle. The building was originally fortified for protection against attack. There are loopholes for fire muskets placed strategically around the entire building. From all indications the building seemed to be of three storeys consisting of a cellar, ground floor and first floor. It is a rectangular stone building with square towers at opposite corners.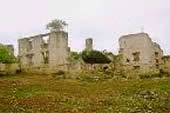 In 1957 Mr. Charles Cotter excavated a Taino Midden found on the property. It was found that the site offered valuable insights into the dietary habits of the Tainos.
Material excavated included a variety of marine shells perforated and unperforated e.g. giant conchs, giant crab limbs, breast bones of birds and turtle bones. Ownership of the properties on which the ruins and the Midden are located was transferred to the Jamaica National Heritage Trust by Kaiser Bauxite Company.