Rio Nuevo Battle Site
Parish: St. Mary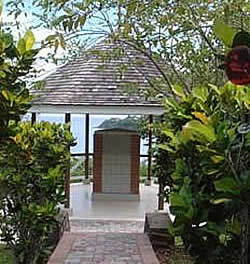 Rio Nuevo St. Mary is the site of the final pitched battle between British and Spanish forces to determine possession of Jamaica. The Spanish defeat following five years of guerrilla warfare led by Spanish Governor Arnaldo de Isassi placed Jamaica definitively in English hands. Spain formally conceded Jamaica to England by the Treaty of Madrid in 1670.
The Beckford family who owned a significant portion of the property on which the battle took place, donated approximately one acre of this land to the Jamaica National Heritage Trust (JNHT). The JNHT has currently given a Licence to the Rio Nuevo Heritage Foundation for its occupation, use and maintenance of this property.
The inscription on the Rio Nuevo battle site marker reads:
THE RIO NUEVO MEMORIAL
"The stockade that once stood here was captured on the 17th June 1658 by Colonel Edward D'oyley and the English forces under his command after a gallant defence by Don Cristobal de Ysassi the last spanish govenor of Jamaica."