Harmony Hall House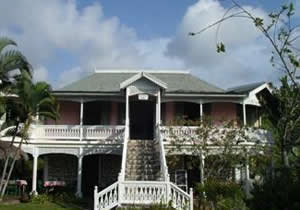 Parish: St. Mary
Dating back to the late nineteenth century, the Harmony Hall House is indicative of Jamaican-Georgian architectural style with its intricate fretwork of gingerbread trimmings and a balustrade—characteristic features of plantation houses in the nineteenth century.
The original property house was on a small pimento estate in the latter part of the nineteenth century. By 1910, like so many other properties in the parish of St. Mary, Harmony Hall began to plant bananas, and by 1938 the agricultural produce had expanded to include coconuts.
The house became the manse for the local Methodist Church, and the distinguished Sherlock family lived there at one time. The property became the private home of the Lobban family for nearly fifty years. It was sold in 1986, remodelled and subsequently became the Harmony Hall Art Gallery.
The Harmony Hall House was declared a national monument by the Jamaica National Heritage Trust on April 3, 2003.