Castleton Botanical Gardens
Parish: St. Mary
Located on either side of the Kingston to St. Mary main road, is Castleton Botanical Garden. It was established on the 19th November 1862 as a result of dissatisfaction with the site at Bath, St. Thomas. Shortly afterwards, Castleton Gardens became one of the great gardens of the Hemisphere with its rich variety of plants. In the past Castleton had over four (4000) thousand species of plants from the great English Garden at Kew. In 1897 there were one hundred and eighty (180) species of palm in the Palmetum. Many plants introduced in the island in the late 19th and early 20th centuries were planted here. These included the Poinciana, Bombay Mango, the Spathodea, Navel Orange, and tangerine.
Many interesting plants can still be seen at Castleton today. These include, the strychnos from which medicine (and poison) strychnine is obtained, the Velvet Apple, West Indian Mahogany and specimens of coffee.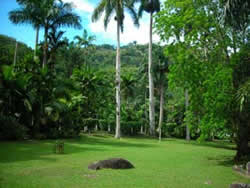 Nestled in the hills of St. Mary, Castleton Gardens is a haven for nature lovers who want a cool, quiet place to relax. Added to the attraction, is the cooling water of the Wag Water River, where visitors may have a swim. Many visitors walk from Temple Hall to the Garden to picnic because they find walking along the winding Castleton road interesting and scenic.
One can walk on either side of the Garden and get a very close view of the trees and flowers while listening to the chirping of numerous birds. The lush green grass provides an ideal setting for the weary who may lie and sleep or view the blossoms of the plants and listen to the rushing water of the river.
Opening Hours
Mondays – Sundays 5:30 AM
Closing Hours

6:00 PM - October – February

6:30 PM - March - September

Public Holidays The gardens will be open on all public holidays, except:

National Labour Day

National Heroes' Day