Kendal Railway Tragedy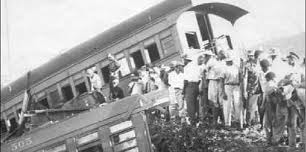 Parish: Manchester

The worst railway disaster in Jamaica's history, happened close to this spot on September 1, 1957. At around 11:30 p.m. a train carrying some 1,600 passengers derailed its tracks. Close to 200 persons lost their lives. Varying accounts indicate that between 400 and 700 persons sustained injuries in what was described as the worst transportation system tragedy in Jamaica's history, and the second worst rail disaster in the world at the time.
Early that day, hundreds of members of the Holy Name Society of the St. Anne's Roman Catholic Church in Kingston, boarded a train at the Kingston Railway Station for an all day excursion to Montego Bay.
On the train's return leg, as the two diesel engines and twelve wooden coaches approached the quiet town of Kendal, three shrill whistle blasts signaled the journey's tragic end. Eight of the twelve wooden coaches were wrecked, with the dead and injured inside, underneath and on top, and bodies and body parts strewn over a wide area. Some persons died on impact, many died from being spiked by splinters from the wooden coaches, and various other injuries. Many of the dead were buried in a mass grave behind the crash site.
The Railway Commission of Enquiry later attributed the cause of the accident to the accidental closure of an angled wheel (brake) cock that had been incorrectly placed. As a consequence of the crash, the railway replaced all wooden coaches with metal coaches, and the Jamaica Government Railways, was reconstituted and renamed the Jamaica Railway Corporation (JRC). The name Kendal, continues to evoke memories of the Kendal Crash.